Impacting our community through awareness, education and services for the uniquely blessed children God has entrusted us with
A Story of God's F

aithfulness
Hope for Family was born out of a love for orphaned and abandoned children. We believe that every child deserves to grow up in a family, not an institution. Institutions are necessary to bridge the gap between those that need families and those who desire to give a child in need a home. We have worked in the field caring and advocating for these children. We see the great need for intervention for these precious ones.
In 2005 Dan traveled to Kenya for what he believed to be a once in a lifetime adventure and to save children. God did something to his heart on that trip that could not be dismissed. In 2006, he returned to Kenya to see if the tug on his heart was emotion, or a true calling of God. While in Kenya in 2006, Dan called back home and told his wife, "I think God is calling us to Kenya to serve..." She was not at all enthused about that notion. After Dan returned home, they discussed and prayed over it, then decided to travel as a family to Kenya to see if the calling was for the whole family.
Through that experience God confirmed our calling. They started the process of heading to Kenya for full time mission work. They arrived in August of 2012 and immediately started working at a local rescue center as the directors. In June of 2013, Dana fell ill with metastatic breast cancer. She was paralyzed, and not expected to live. But God had different plans, and He healed Dana in a miraculous way. She and Dan returned to the ministry that they loved in January 2014. Later in 2014, Dana and Dan felt God leading them to the care of special needs children. They started the process of learning all they could about the need and possible solutions. Many models were considered, and they started looking for land. In December of 2016, Dana started feeling ill. On January 13th, 2017, our family and ministry suffered a serious loss. Dana went to be with the Lord. Although it would have been very easy to give up, through God's grace, Dan and the family pressed on. Several times over the next year they were ready to put the shovel in the ground, but God said no.
In late April of 2018, while Dan was looking for help with his daughter Hope, he reached out to a long time family friend, Salome. In the following months, Dan and Salome's friendship grew into a love - a love for each other, a love for family, a love for ministry, all of which came out of a love for serving God. Salome and Dana had been good friends, and they shared many common interests including a love for children and a love for Hope, Dan's daughter. On September 15th of 2018, Dan and Salome married in Kenya and continued on with what Dana and Dan had started. Today God has blessed them with a very supportive family and a clear way forward for their family and the ministry of through Hope for Family.
Our mission is to use our gifts, talents, abilities and resources to help children with special needs to be all they aspire to be. We will prepare them for their forever famliy as we wait for God to bring their parents to us. We do all of this to the honor and glory of Jesus Christ.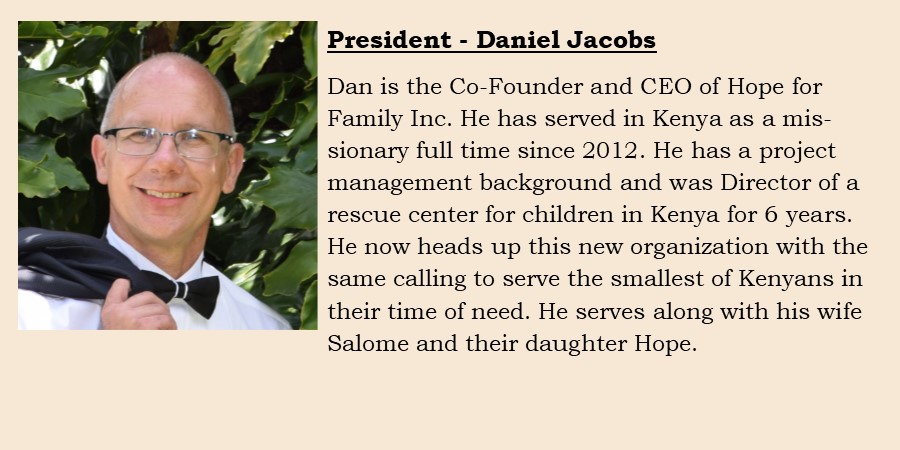 We believe in the Holy Trinity, God the Father, God the Son and God the Holy Spirit.
We believe that Jesus Christ was the the Son of God, fully God and fully man.
We believe in the Virgin birth.
We believe that Jesus died on the cross as a payment for all of our sins, once and forever.
We believe that on the third day Christ rose from the grave and sits at the right hand of the Father Almighty.
We believe that Christ is coming again to reign over His Kingdom forever with those who believe upon Him.
We believe that the Bible is the infallible Word of God, inspired by the Holy Spirit.